XPEL Stealth PPF Transform, Customize & Protect All In One!
Meet our most premium service – Xpel STEALTH. As one of few shops that specialize in full STEALTH transformations, HQD can both transform and protect your gloss paint with this exotic satin look that will turn heads wherever you go. For a finish that's uniformly sleek and eye-catchingly unique, choose the STEALTH transformation.
SATIN/MATTE PAINT PROTECTION FILM
STEALTH Paint Protection Film is specifically formulated for preserving matte paint finishes. Matte finishes are notoriously difficult to maintain and even harder to repair. STEALTH matches most factory matte paint jobs and virtually disappears on most surfaces. STEALTH enables you to easily wash and dry your car without damaging its sheen. Featuring the same superior impact protection as ULTIMATE PLUS and backed by an industry-leading 10-year warranty, STEALTH will keep your specialty paint job looking effortlessly pristine.
If you are looking to protect your vehicle's paint finish from rock chips, insect spatter, weather-related elements, road debris & more, Xpel Stealth Satin Paint Protection Film is the way to go. It offers excellent style and protection for your car, truck, SUV, off-road vehicle, luxury vehicle, or electric vehicle!
Self-Healing
The self-healing technology allows the film to self-repair when exposed to heat, eliminating fine scratches and swirl marks.
Sleek Satin Finish
Smooth as satin, the matte finish of the film will leave your vehicle looking pristine and keep it protected.
Custom Applications
Whether your choose to fully wrap your entire vehicle in Stealth PPF or to protect factory flares and other areas of your vehicle, you can.
Industry Leading 10 yr Warranty
Enjoy the reassurance of Xpel's industry-leading 10-year warranty and superior impact protection.
Easy Maintenance
Flat finishes are known to be hard to maintain, but Stealth makes it easy to maintain without your vehicle losing its sheen.
XPEL Dealer of the Year
Not only is HQD a Certified PPF Installer with XPEL, we also have obtained the recognition of being Xpel's Dealer of the year. You know when you are having you're protected with Stealth by us we know what we are doing.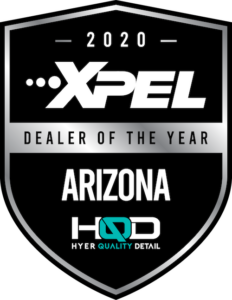 Get A Free Estimate!
Have Questions? Or want to get an immediate estimate on your project then give us a call! (480) 703-7217